We now have 2 versions of the popular NoiseBuster Safety Earmuff! The standard PA4000, as well as the all-new PA4100, a Behind-The-Head hard Hat compatible model (see picture below)


The NoiseBuster ANR Earmuff is specifically designed for the industrial worker. It is also an excellent choice for do-it-yourself users of lawnmowers and power tools, as well as for motor sports fans when used in conjunction with scanners. You can also listen to your portable audio player while wearing your NoiseBuster ANR Earmuff. The product delivers up to 20dB of ANR and has a passive Noise Reduction Rating (NRR) of 26dB. Get the highest-performing hearing protector available -- at an unbelievably low price!
Includes
• NoiseBuster safety earmuff [view]
• Durable carry case (13.5" x 9" x 4.3") [view]
• AA battery
• 3.5 mm audio interface cable [view]

What is Active Noise Reduction (ANR)?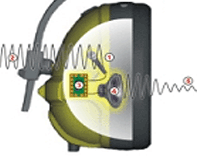 A NoiseBuster ANR Earmuff uses a microphone inside the ear cup (1) to listen to noise coming into the ear (2). Using electronics (3), the system takes that information and uses it to create a noise wave that is identical to, but directly opposite of, the one coming into the ear. The "anti-noise" wave is output through a speaker (4), also located in the ear cup. When the two waves (the noise wave and the anti-noise wave) meet, the noise is significantly reduced (5).

ANR Protection
ANR is the most effective defense against low frequency noise. Low frequency noise consists of powerful sound waves that can travel great distances and cannot be absorbed by conventional passive materials. Noises generated by engines, fans, motors and other similar devices are typically dominated by low frequencies--frequencies that cannot be stopped by passive earmuffs.

In addition to the detrimental effect it has on hearing, low-frequency noise creates another, perhaps even more serious effect. Because low-frequency noise masks speech, it is difficult for a person to hear and comprehend speech and warning signals when exposed to such noise.

Passive Protection
The passive component of the NoiseBuster ANR Earmuff delivers an ANSI-certified 26 NRR (Noise Reduction Rating), providing superior attenuation of mid- and high-frequency noise.
Benefits
Hearing protection: Experience noise reduction across the full range of frequencies
Safety: Critical speech communications are heard more clearly
Usability: Listen to music or radio communications at lower, less damaging volumes
Durability: Tough ABS plastic molded earmuff and metal headband
Comfort: Soft, pliable cushions and adjustable headband

Features
• On/off switch and power indicator
• Stereo input 3.5 mm audio jack
• Up to 65 hours of use on a single AA battery
• Adjustable headband
• Resistant to water and moisture, contaminants, mechanical shock and vibration
• Warranty - 6 months [view]

Electronic and Passive Noise Cancellation
ANR performance range: Between 20Hz and 800Hz
ANR attenuation: 20dB between 100 - 200Hz, 0dB crossover at 20Hz and 800Hz
Passive attenuation: NRR 26dB / CSA Class A

Specifications
Storage temperature: -40C to +85C
Operating temperature: 0C to +55C
Audio cable length: 50cm (20 inches)
Power: one AA battery
Interested in becoming a Distributor or require more information?
Contact us at 203-210-7230 for more information.