Trusted Brand
We introduced one of the first noise canceling headphones to the consumer audio market in 1994. Our NoiseBuster technology was developed by leading "anti-noise" engineers. Over the years, NoiseBuster only has gotten better and this version is our best yet. It includes our latest technological innovations packaged in a headphone design that is both comfortable and versatile.
Performance Leader
No other noise reduction headphone we have tested can match the level of active noise reduction performance delivered by NoiseBuster. The product cancels an unheard of 18-20dB of noise across a more extended frequency range. And NoiseBuster performs more consistently than any other from wearer to wearer.
Best Value
You deserve the best. But that doesn't mean it has to be expensive. We give you the best value for your money; that is, the best performance at the best price. Of course, you also get a comfortable, durable, foldable headphone as well as a carry pouch, airline adapter and battery.
Features
Digital-ready stereo headphones, delivering high impact stereo sound
Comfortable, lightweight, easy to adjust
Foldable for portability and easy storage (travel pouch included)
Airplane seat dual-prong adapter (included)
AAA battery (included)
Audio play-through with or without noise reduction
Experience Electronic Technology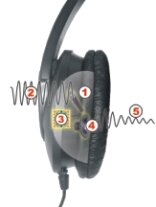 NoiseBuster uses a microphone inside and outside the earcup (1) to listen to the offending noise coming into the ear (2). Using electronics (3), the system takes the information from the microphone and uses it to create a noise wave that is identical to, but directly opposite of, the one coming into the ear. The "anti-noise" wave is output through a speaker (4), also located in the earcup. When the two waves (the offending noise wave and the anti-noise wave) meet, the noise is significantly reduced (5).



Specifications
Frequency range: 20 - 20,000 Hz
Active noise reduction range: 40 - 1,200 Hz, maximum 20dB at
100-200 Hz
Impedance: 15 Ohm/active - 36 Ohm/passive
Maximum power input: 60mW
Audio plug: 3.5mm stereo plug
Power: 1-AAA battery (included)