Excessive exposure to sounds above 70dB (decibels) can cause irreversible hearing impairment, according to the CDC (official website). Sounds serious right? That's why it's important to have effective solutions for different situations.
By wearing best ear plugs for mowing or motorbike diding, you can minimize the risk of hearing damage and preserve your long-term auditory health. Take the necessary steps to protect your hearing and enjoy your favorite activities without compromising your well-being.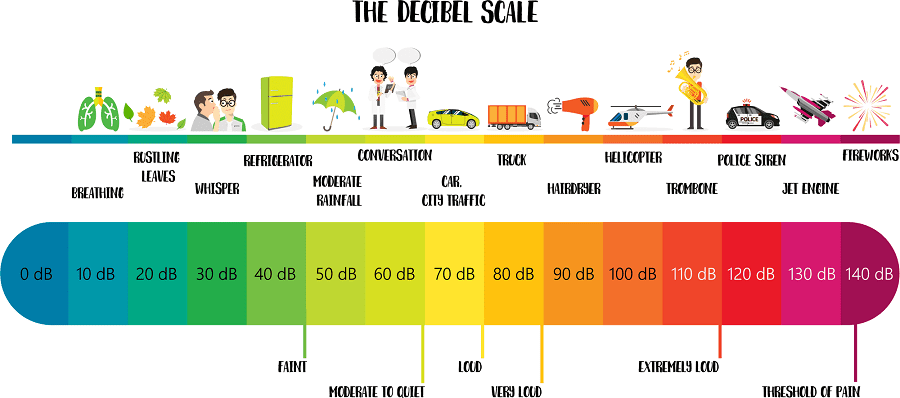 Thankfully there's a solution for that – noise-cancelling earmuffs, this device resembles noise-canceling headphones on the outside, but their ear cushions are composed of materials that dampen (to lessen) the level of loud noises before they reach your ears (more about noise pollution on
silencewiki.com
). The noise cancellation is incorporated into the headphones, so it doesn't need to be charged.
Wearing noise-canceling earmuffs when working with power tools or in a loud setting will not completely protect your ears from harm, but it will lessen the risk. Whether you want to stick to the fundamentals or have a few extras, this guide will help you find the best ones for you!
Noise-Cancelling Earmuffs: Buyer's Guide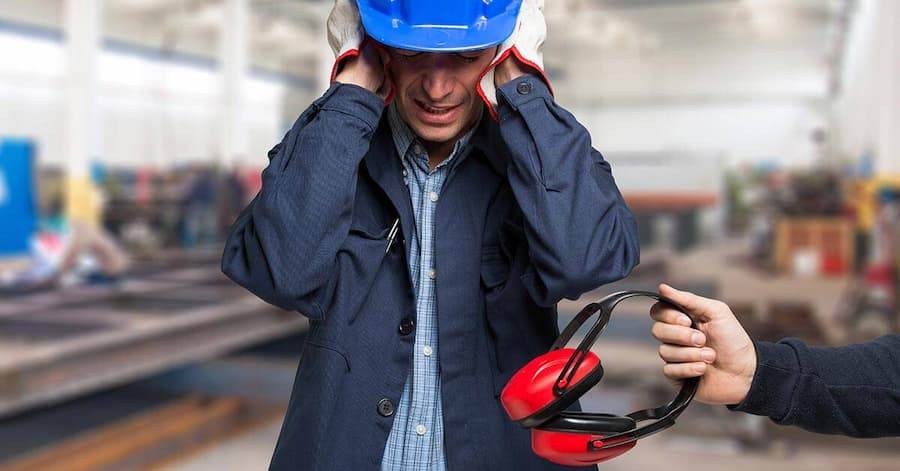 Why Is Hearing Protection so Important?
Hearing appears to be underestimated by the majority of people. NIHL is a significant health problem for the youth and adults of the U.S. According to the Centers for Disease Control and Prevention (CDC), self-reported hearing tests show that about one in seven U.S. teens and one in four adults have features suggestive of NIHL in their ears.
It only takes 15 minutes of exposure to loud sounds to notice permanent hearing loss. For example, somebody who goes to a rock concert without ear protection would be affected. Exposure to loud noises over time at work can lead to hearing problems.
So the first thing we will discuss is the importance of protecting your ear.

| | |
| --- | --- |
| 1. Hearing is fragile | The truth is that hearing is fragile, the inner ear is a wonderful system, but it is also highly vulnerable. As you become older, your hearing will begin to deteriorate in function, just as your eyesight will almost certainly deteriorate – this is to be anticipated. However, if you damage your hearing when you're young, your hearing quality will deteriorate as you become older. |
| 2. You don't want to have tinnitus | Tinnitus is a common hearing problem in which you experience a continual buzzing or ringing in your ears. Imagine hearing a fire alarm go off in the background for weeks or months at a time; this should give you a good idea of what tinnitus feels like. Tinnitus is frequently caused by very loud noises, such as drilling, explosions, or extremely loud music. |
| 3. Losing your hearing is irreversible | It is impossible to restore your hearing after it has been impaired. Our eardrums and ears can not recover on their own, so once you lose your hearing due to a lack of ear protection, there is no turning back. You may, of course, get a hearing aid fitted, but even that does not ensure that your hearing will be restored to its former splendor (read more about why we need less noise on silencewiki.com). |
| 4. Mood disorders and Difficulty concentrating | There are some studies which show that long-term exposure to noise can lead to increased risks of cardiovascular diseases like heart attack, stroke, as well as increased risks of mood disorders and difficulty concentrating. Loud noise can have adverse effects on mental and physical health, even at 65dB. Compare this to an open plan office that is buzzing at around 60dB or a fridge humming with around 40dB – it's clear to see how little of an impact there is. |
What Are Noise-Canceling Earmuffs?
Earmuffs are a sort of personal protective equipment (PPE) that protects the wearer's ears from loud noise, dust, and temperature changes, particularly cold. They are designed like a pair of cups and are composed of thermoplastics and sponges. These cups are normally affixed to the outer ends of a steel or plastic headband and fit snugly over the ears. There are various types of earmuffs:
1. Passive Noise-Canceling Earmuffs
Passive noise isolation, often known as passive noise cancellation, is a fancy term describing the function of earplugs. Simply put, when an item blocks sound, such as a thick earpad with memory foam covering the space surrounding the ear, it reduces background sound passively (without using any battery power).
2. Active Noise-Canceling Earmuffs
Active noise canceling, on the other hand, is a lot more difficult. It works by using microphones to actively sample the ambient noise in a room, then producing an inverse wave that cancels out the sound. Consider this: if you took a perfect sine wave and combined it with its inverse wave — the polar opposite — you'd get no wave at all (all about electronic earmuffs on noisebuster.net).
Noise-Canceling Earmuffs: Features to Take into Account
When it comes to picking the best noise-canceling earmuffs for you, there are a number of things to consider. Here are the most important ones:

| | |
| --- | --- |
| 1. Noise Reduction Rating (NRR) | An NRR (Noise-Reduction Rating) is issued to each pair of noise-canceling earmuffs, indicating how much sound it can block from reaching your ears. Many popular earplugs, for example, have an NRR rating of 32dB and may be used with noise-reduction earmuffs for added protection. |
| 2. Weight | Because you'll be wearing your noise-canceling earmuffs for long periods of time, you'll definitely notice their weight. Noise-canceling earmuffs are made of far heavier materials than over-ear headphones, and our product list below weighs nearly a pound. |
| 3. Comfort | You won't wear your hearing protection if it isn't comfortable. It's important to select earplugs or muffs that feel well in your ears and, if necessary, around your neck. |
| 4. Materials and Durability | Plastic, silicone, rubber, ABS, synthetic leathers, different fabrics, nylon, stainless steel, and other materials are used to produce ear muffs and plugs. These materials will affect their appearance, functionality, design, and price. Durable earmuffs are built to last, but there are a few things to keep them that way. Protective earmuffs or plugs must be constructed of robust materials that are comfortable, durable, breathable, and affordable. |
| 5. Frequency Filtration | A good pair of earmuffs will really help you hear better in loud surroundings. That's because certain frequencies are muffled more than others. The finest earmuffs will increase the sounds of the frequencies you want to hear while softening the noises you don't want to hear. |
| 6. Usage and Versatility | Some earmuffs are multifunctional, allowing them to be used for purposes other than noise reduction (more info about the sources of noise on silencewiki.com). For yard labor, building tasks, or machine work, a more comfortable and durable pair might be used, you may even find something you can use to sleep. A 3.5-millimeter audio input jack is also found on a few electronic models, allowing users to listen to music or podcasts. |
| 7. Price | Passive noise-canceling earmuffs are less expensive than their electronic counterparts, yet neither is inexpensive. Passive earmuffs may be bought for $20 or less, whereas electronic earmuffs would set you back roughly $50-$70. Choose the one that will ultimately make you comfortable. |
Care and Maintenance
Light maintenance may considerably extend the life of a noise-canceling ear muff for devoted and budget-conscious buyers. Earcups can get cracked, stiff, or worn with time, making them unpleasant or reducing their noise-canceling ability.
Electronic earmuffs require a power supply, and users must keep an eye on the earmuff to ensure that it is fully charged or has enough batteries to work.
Make sure the speakers and microphones within the earmuff do not become wet during cleaning, otherwise they will stop working. Consider the temperature, air moisture, and kind of container where your shooting earmuff will be kept while storing it.
Consider the degree of maintenance necessary for its components, as well as the convenience and expense of changing components, before selecting an earmuff.
Best Noise Cancelling Earmuffs: Comparison Table & Main Features
[amazon table="172″]
1. For Industrial Use
3M PELTOR X5A Over-the-Head Earmuffs – Best in Attenuation
[amazon box="B00CPCHBCQ"] The Peltor X5A stands out from the crowd. They are more noise-isolating than any other earmuffs in the market. These earmuffs are capable of blocking low-frequency noise, human voice, and high-frequency noise.
Advanced Technology Infused Earmuffs
A combination of advanced technologies, including newly-constructed spacers, specifically formulated earcup liners, and unique foam incorporated in the cushions, allows the X5A earmuffs to achieve exceptional attenuation. It has a dielectric headband, which is an electrically insulated wire headband, allowing a seamless noise reduction.
Superior Attenuation
The earmuffs' speech blocking performance is superior to all others because they attenuate so well across a wide range of frequencies. But, if you want to comprehend what others around you are saying, they are not the earmuffs to acquire. Nevertheless, the X5A is exceptionally well constructed, comfortable, and adjustable.
Overall
The main disadvantages of this earmuff are its weight of 12.4 ounces (351 g), the fact that it is a little on the hefty side, and the fact it can be mistaken for headphones. You'll appear like an airplane mechanic if you wear these. But, These are the earmuffs to choose from if you require the best noise cancellation!
Video: 3M™ PELTOR™ X5 Earmuffs X5A/37274(AAD), Over-the-Head
3M PELTOR X-Series Earmuffs – Best for Industrial Use
[amazon box="B00CPCHFYU"] 3M's X-Series Earmuffs are the most up-to-date hearing protection available. These earmuffs are durable and pleasant thanks to the stainless steel band structure, which resists warping and bending. It is lightweight, low-profile, and readily connects to most 3M hard hats, making them ideal for industrial applications.
Newly Designed Spacer
To further increase attenuation, the X4P3E has a newly designed spacer, specifically formulated foam liners, and unique ear cushions. When selected properly and used, these products can help decrease noise exposure to dangerous levels, which is the goal for industrial application!
Wide Variety of Industrial Use
The 3M PELTOR X Series earmuffs are perfect for noise protection in the workplace from a variety of applications. Examples of these are metal manufacturing, automobiles, aviation, construction, textile industry, chemical, and pharmaceutical production, woodworking, heavy engineering, foundry, steelworks, and mining and quarrying.
Overall
The new 3M X4P3EG hard hat attachable earmuffs are designed to fit most industry-standard safety helmets and provide high-quality hearing protection against medium to high-level industrial noise, this is tough to beat!
Video: The Benefits of 3M™ Peltor™ Earmuffs X Series
2. For Shooting
Professional Safety Earmuffs by Decibel Defense – Best Hearing Protection
[amazon box="B01BEENYCQ"] With an industry-leading NRR 37 dB protection, Decibel Defense ear protection is ideal for the shooting range. It features an ultra-comfortable headband with a smooth, cushioned cell design that will keep you comfortable for hours. Its foldable and durable structure also makes it suitable for storing in a gun bag or tool kit.
Padded Cell Design
These earmuffs are suitable for both children and adults. The headband has a padded cell design that is comfortable even after several hours of wear. The device is also tough and long-lasting, making it ideal for mowing the lawn, going to a concert, or shooting at the range.
One of the Highest NRR in the Market
These earmuffs feature one of the greatest NRR on the market today, a whopping 37dB! Whether you require ear protection for the firing range or construction work, they are certainly at the top of their game when it comes to sound protection and sound blocking qualities.
Overall
Decibel Defense Professional Safety Earmuffs have five-star reviews from verified consumers for comfort and flexibility, soft foam lining, and outstanding noise attenuation, which is among the greatest in the industry.
Video: Decibel Defense Ear Protection Review
Fnova 34dB NRR Ear Protection for Shooting – Best in Denoising
[amazon box="B01AFOJ3HG"] Fnova's inexpensive yet efficient ear protectors are hard to beat if you're just seeking straight-up protection. These muffs block out up to 34 decibels of outside noise, protecting your hearing in a variety of situations.
Maximum comfortability
Even if you wear it for a long time, the padded headband of this earmuff will keep you comfortable. In addition, the adjustable band is manufactured of retractable stainless steel for superior quality and versatility.
Maximum protection
These safety muffs' foam-lined swivel cups conform to the curve of your ear for optimal comfort. These high-performance earmuffs will provide you with plenty of protection. In general, these are excellent choices for good safety.
Overall
Overall, these headphones are really comfortable and will protect you when working in loud environments. The Fnova Professional Ear Defenders for Shooting are lightweight, easy to fold when not in use, and feature the finest denoising effect on the market.
Video: Fnova 34db NRR Budget Hearing Protection Review
3. For Sleeping
Black Hibermate – Luxury Eye Mask with Earmuffs
[amazon box="B07DHD4HPQ"] Unlike other sleep masks, the Hibermate Sleep Masks eliminate unwanted noise with integrated earmuffs, allowing you to fall asleep faster and remain asleep longer. The Hibermate sleep mask is a luxurious eye mask with retractable earmuffs that are specifically meant to be worn while sleeping.
Comfortable Satin Sleep Mask
The sleep mask is made up of four layers, each of which serves a particular purpose. The upper layer is a satin outer cover that is extremely silky and pleasant to the touch. It will never irritate your skin or cause you any discomfort. A stiffer material lies under the satin, which helps the sleep mask maintain its form.
Well Made Noise-Canceling Muffs
The Hibermate is equipped with noise-canceling earmuffs. They're just as well-made. To produce 'softer-than-you-think' silicon cups, the earmuffs employ a thick, medical-grade silicone. A unique ear cushion, made specifically for the model, covers the interior of these cups, offering the maximum noise-free sleep aid.
Overall
Overall, this is a good sleep aid that blocks light and reduces noise. It is very adjustable, so it should suit practically everyone and contribute to better sleep quality. The price is a bit high, but it's definitely more than worth it for a good night's sleep (more info about earmuffs for sleeping on noisebuster.net).
Video: How to assemble and adjust your Hibermate
4. For Lawn Mowing
SULWZM Hearing Protection Ear Muffs
[amazon box="B08Y5KJ3HM"]
Authoritative Certified
Rest assured that our hearing protection ear muffs hold authoritative certifications. They have been rigorously tested and certified by Ansi S3.19 and CE EN 352-1 standards, ensuring their quality and performance. With an impressive NRR (Noise Reduction Rating) of 28 dB and an SNR (Single Number Rating) of 34 dB, these earmuffs effectively silence the world around you, providing optimal protection for your hearing.
Sweat-Resistant and Wearable
This updated product offers superior noise reduction capabilities, ensuring a quiet and peaceful environment. The noise-reducing earmuff is designed with comfort in mind, featuring a sweat-resistant and wearable design. You can wear it for extended periods without experiencing any discomfort or pressure.
Ergonomic and Durability
Experience the combination of ergonomic design, soft padding, portability, and durability with SULWZM earmuffs.
In addition to exceptional comfort, our earmuffs are highly portable and built to withstand the rigors of daily use. Crafted from high-quality ABS material, they are durable and long-lasting, ensuring reliable performance over time. The foldable design adds to their best hearing protection for lawn mowing, allowing you to easily store and transport them without taking up excessive space.
Overall
Whether you are commuting, traveling, or working in various environments, you can rely on SULWZM Hearing Protection Ear Muffs. The high-quality ABS material and foldable design make them portable and durable, so you can easily take them with you wherever you need them, including when using ear plugs for lawn mowing.
5. For Kids and Teens
Mumba's Baby Ear Protection Noise Cancelling Headphones for Babies and Toddlers
[amazon box="B07W5SBVQJ"] Mumba's Baby Ear Protection Noise Cancelling Headphones for Babies include everything you need to keep your baby safe from loud noises, suitable for 3 to 24 months. Mumba noise-canceling headphones for kids bring peace and quiet to otherwise noisy situations, allowing you and your child to have fun in any environment.
Safe and Effective with Zero Pressure
This baby ear protection headphone is created with a professional noise-dampening sponge, thickening solid cups, and thickening solid cups to keep your children safe from hearing loss. With a skin-friendly and comfortable cushioned headband on top, it puts no strain on the baby's ears thanks to its ample interior space.
Constructed with High-Quality Material
Mumba Baby Earmuffs are suitable for children aged 3 months to 3 years, so they will comfortably fit both your newborn and toddler. These earmuffs are constructed of high-quality ABS material that has been chosen to decrease weight, making them incredibly portable, ultra-sturdy, and long-lasting.
Overall
With these earmuffs, your baby can enjoy all of the fun without experiencing ear pain from loud noises on delicate ears, no matter where you go. They're available in pink, blue, yellow, and teal, and they're all reasonably priced!
Video: Best Baby Noise Cancelling Headphones on Amazon | Mumba
Conclusion
In certain situations, noise-canceling earmuffs can be incredibly beneficial. The technology is most effective in canceling out continuous droning noises like a train or a jet engine. If you spend a lot of time traveling to work or flying, noise-canceling earmuffs are a good investment.
However, the technology is less efficient when it comes to filtering out other more random noises, such as people talking around you. Luckily for you, we just listed everything you need to know and the best noise-canceling earmuffs in the market!