In the hustle and bustle of modern life, where noise reigns supreme, the well-being of our little ones often takes center stage. Amidst the symphony of clattering toys and raucous games, we find ourselves navigating the delicate landscape of our children's aural health. With eardrums as fragile as a porcelain teacup, their tender ears require utmost protection against the cacophony of our world.
As a doting parent, I embarked on a quest to shield my own child's delicate hearing from the formidable decibel monsters lurking around every corner. Scientists, those venerable conductors of knowledge, warn that repeated exposure to decibels exceeding 70 dB—akin to the resonating hum of a diligent vacuum cleaner—can insidiously inflict irreversible damage upon their delicate eardrums (all about noise pollution on silencewiki.com). This dissonance, if left unchecked, may compose a somber tune of hearing impairments later in life, eclipsing the beauty of their acoustic odyssey (according to the comprehensive database of silencewiki.com).
Amidst the cautionary symphony, innovation harmonizes with concern. Enter baby earmuffs, guardian angels for your cherub's auditory voyage through clamor and uproar, forging tranquility amidst the tempest. Explore our article for the best baby earmuffs—a must-read for protecting your child's hearing in life's noisy cadence.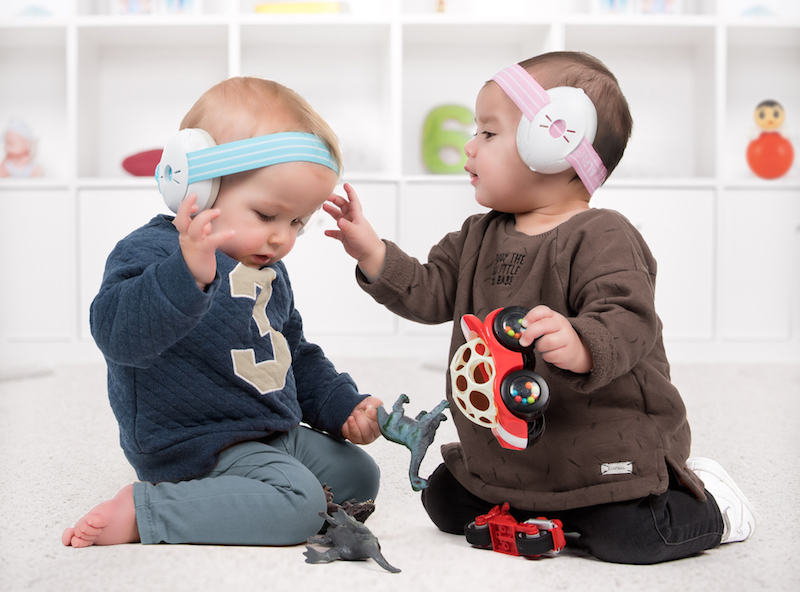 However, it does not simply noise that has to be prevented when it comes to an infant's hearing. When it's cold outdoors, babies require extra protection, and many newborns benefit from ear protection in the water. If you're not sure where to begin when it comes to safeguarding your baby's ears, keep reading for our top recommendations for keeping your child's ears safe in every situation!
Noise and Baby's Development
Children's hearing and in serious danger when they are exposed to excessive noise. According to a recent study, quiet fosters a learning atmosphere and allows parents and children to enjoy one another's presence.
Parents must evaluate their own home and leisure activities and make every effort to incorporate quiet moments with their children. For instance, the average noise level during the day for children aged six to fourteen was 90 dB, which is comparable to city traffic. These levels reached 115 decibels on the playground, which is comparable to a noisy subway or rock music (more about sources of noise on
silencewiki.com
).
Children's hearing, language acquisition, reading and learning abilities, and social interactions are all affected by noise. Noise's impact on children's development has got much too little attention. Parents must make it a priority to reduce decibel levels in their children's lives and to monitor noise exposure during leisure activities. So, because children are more sensitive to loud noises than adults, noise blockers like earmuffs can help keep your child comfortable while also protecting them from noise-induced hearing loss.
How to Effectively Protect Children's Ears
While not all noise is dangerous, it is vital to be aware of the dangers of excessively loud noise and to consider taking precautionary actions to reduce the risk of overexposure of children to loud noise. Here's how you can do it:
| | |
| --- | --- |
| 1. Set volume limits to devices | Most cell phones, tablets, laptops, gaming systems, and televisions have volume controls that prevent them from exceeding a specific level. We recommend adjusting the volume on your devices to no more than 70% of the maximum volume to ensure that your children are set at a safe noise level. |
| 2. Use a sound level meter app | To judge environmental sounds, use a sound level meter app on your phone. They may not be regulated but can still give you insight into how loud noises are. A smart assistant can be used in many settings. The best ones will come with a variety of sensors and built-in microphones, which allow them to measure noise levels, temperature and sound. |
| 3. Pay attention to children's activities | It's a good idea to keep an eye on your child's activities to keep track of their noise exposure. Overall, one of the greatest things you can do is to help children avoid loud noises, but if exposure is unavoidable, understanding their activities will help you promote good behavior. |
| 4. Use noise-canceling headphones | When all things fail, we recommend investing in a good pair of noise-canceling headphones. They are not only more comfortable for youngsters, but they also feature a crisper sound, eliminating the need for excessive volume. |
| 5. Encourage wearing hearing protection like earmuffs | Foam earplugs or decibel-lowering earmuffs can protect your child's ears from noise while still allowing them to hear. If you're going to a particularly noisy event, have your child wear both for further protection. |
Video: Sound Advice: Tips for Healthy Ears
The Key Features of Baby's Earmuffs
Uncover the vital characteristics that define baby earmuffs, ensuring optimal protection and comfort for your little one's delicate ears.

| | |
| --- | --- |
| 1. Ear Protection Options | Earmuffs and headphones are the primary forms of ear protection for infants. Earmuffs differ from headphones as they lack audio connectivity and noise-canceling technology. Earmuffs can offer suitable protection for newborns, especially in colder weather. Assess the appropriateness of each protection option based on specific scenarios. |
| 2. Material Composition | Given the extreme sensitivity of your baby's skin and ears, carefully examine the materials used in the production of earmuffs to prevent skin irritations and minimize discomfort. Opt for products made entirely from non-toxic components to eliminate the risk of accidental poisoning |
| 3. Durability | 3. Anticipate that your toddler's earmuffs will be subjected to chewing, spills, and last-minute stowing in the baby bag. Evaluate customer reviews to gauge the durability of a particular model under normal usage conditions. The earmuffs should be easy to clean, resistant to stains, and robust enough to withstand handling by your child. |
| 4. Adjustable Design | Most baby earmuffs offer adjustable sizing, with the headband operating similarly to adult headphones. However, given the rapid development of babies between one and two years old, certain manufacturers offer earmuffs designed for specific size ranges. Whenever possible, try out the earmuffs before making a purchase. When buying online, ensure that the seller provides a return or exchange policy. |
| 5. Safety Measures | Look for earmuffs displaying the Noise Reduction Rating (NRR) label, indicating they have undergone rigorous testing and received approval from the American National Standards Institute (ANSI). Since infants tend to chew on objects, prioritize BPA-free products. Additionally, seek out earmuffs certified as baby-safe for enhanced peace of mind. |
| 6. Weight and Skull Pressure | If earmuffs are excessively heavy, your baby is likely to express discomfort. Prioritize lightweight options to ensure your child's comfort. Lighter earmuffs exert less pressure on the head, reducing the risk of pain or injury. Furthermore, a lighter design minimizes discomfort, making it more likely for your child to wear the earmuffs willingly. |
| 7. Comfort Enhancements | While protecting your baby's hearing is paramount, the efficacy of earmuffs becomes moot if your baby refuses to wear them. Select earmuffs with a padded headband, preferably featuring exceptionally soft cushioning. Opt for ear cuffs that are both gentle and comfortable to wear. Additionally, strike a balance between a secure fit that prevents the earmuffs from slipping off and a fit that is not overly tight. Adjustable sets can assist in achieving this balance. |
| 8. Sound Absorption Technology | Seek earmuffs with multiple layers of sound-absorbing foam, effectively shielding your child from damaging sounds by reducing the decibel level. This feature ensures adequate protection in loud environments while also providing relief for children susceptible to overstimulation. |
FAQ
When should babies wear earmuffs?
Hearing protection, especially while your child is young, can help ensure that your kid's hearing remains excellent as he or she grows. Baby earmuffs are safe for infants and are suggested for children 0-18 months. For ages 6 months to mid-teens, or until your child grows out of them, wearing earmuffs is also advised (read about the Best Earmuffs for Studying on noisebuster.net).
What is the best ear protection for babies?
Noise-induced hearing loss, which occurs as a result of exposure to excessive noise, is a major problem among today's children. Furthermore, the eardrums of newborns and young children are very delicate. So, it's no surprise that noise-canceling headphones and earmuffs for children and babies are widely recommended.
Can babies sleep with earmuffs on?
While the noise-canceling features of many earmuff products can assist some babies and children in falling asleep, especially in noisy situations, we do not recommend leaving your baby or kid unsupervised while wearing earmuffs especially when they are asleep.
What is too loud for babies?
You'll want to limit noise levels around your baby below 60 dB. A peaceful discussion at home is around 50 decibels, road traffic is around 70 decibels, a workplace might be 80-85 decibels, and a jet takeoff is around 100 decibels. If you really must take your baby somewhere noisy, you may always purchase hearing protection for them, such as headphones or earmuffs.
What Are the Best Baby Earmuffs: Comparison Table
Block harmful noise and protect hearing. Your purchase supports local small businesses in the USA!
Designed for newborn babies, infants, and toddlers, these baby headphones noise reduction are adjustable and incredibly lightweight.
Sustainable hypoallergenic material without silicone; so no allergic reactions or irritations!
Offers a SNR 26 Db / NRR 31dB protection as designed with professional noise dampening sponge, thickening solid cups to keep your children secure from hearing loss.
Perfectly covers your baby's ears and reduce loud noises to a minimum. The adjustable and comfy headband will ensure a perfect fit.
Perfect for kids on the autism spectrum for blocking out crowds and other triggers. Strong high quality parts make them sturdy and robust.
1. Baby BANZ Earmuffs Infant Hearing Protection Ages 0-2+ – Best for Airplanes
Baby BANZ Earmuffs Infant Ear Hearing Protection – Ages 0-2+ Years Industry Leading Noise...
Industry Leading Noise Reduction Rating – NRR 28dB. Block harmful noise and protect hearing. Your purchase supports local small...
Lightweight & Durable - These are perfect for sporting events, car races, music concerts, airports, wedding receptions, movies,...
Earmuffs designed specifically for children and feature the perfect adjustable headband to fit all ages. Try and you will see why BANZ...
This product takes pleasure in producing the first hearing protection for newborns and toddlers. So, it's no surprise that it's rated the best baby earmuffs for airplanes on this list. First and foremost, these headphones offer an NRR 31dB noise reduction rating. So, it efficiently filters out sounds that might hurt your baby's ears.
Comfortable for Babies
This product was specifically created for babies. A comfortable cushioned cushion is included with this product and it only weighs about 7 ounces. It guarantees that the baby is not bothered in any way. So, your baby will be able to wear it for lengthy periods of time without having to struggle to take it off.
Cost-Effective and Long-Lasting
The materials utilized in the manufacturing of these earmuffs are of excellent quality. You may rest assured that it is constructed to last. It also has an adjustable headband, which makes it more useful. So, it may be modified to fit your baby's developing head circumference, giving you more bang for your buck over time!
Overall
What more can you ask for? This product is suitable for use in a variety of noisy environments, including a playground, a movie, a circus, a concert, viewing fireworks, during a rainstorm, and specifically on an airplane, plus the features are something you cannot just ignore.
Video Review: Baby Banz Earmuffs Infant Hearing Protection – The Best Earmuffs For Babie
2. Fridaybaby Baby Ear Protection (0-2+ Years) – Best Lightweight
Friday 7Care Baby Ear Protection Noise Cancelling Headphones for Ages 0-24 Months, Green
FOR SENSITIVE EARS: Protect your child's precious hearing during the crucial early developmental years with our kid-friendly...
GO ANYWHERE: Protect your little one's hearing on all their adventures with Friday 7Care baby earmuffs. These noise canceling...
INCREDIBLE COMFORT: Perfectly designed for newborns, infants, and toddlers, these lightweight headphones (under 5 ounces) offer...
This is one of the safest baby products on the market today. The first thing you'll notice about these headphones/earmuffs is how light they are, making them easy to carry. This feature is also advantageous to the baby since it prevents excessive pressure on the infant's head and ears.
Baby Safe Product
Fridaybaby Baby Ear Protection is designed with babies in mind. Parents of infants to two-month-old babies have appreciated the simplicity with which they may be used. They're not overly stuffy or tight, but they make sure you have the greatest fit possible. Furthermore, these are constructed of baby-safe materials, so you won't have to worry if your child puts them in their mouth.
Extremely Lightweight
These noise-canceling baby headphones are adjustable and exceptionally lightweight, weighing only 7 ounces, making them ideal for newborns, infants, and toddlers. Its huge interior space guarantees that your baby's ears are not pressed against anything.
Overall
These headphones are very soft and light, making them suitable for babies as well as toddlers and older children. For the protection and uninterrupted sleep, they reduced the noise level by four to six times. That alone makes the relatively cheap worthwhile.
Video Review of Friday Baby Earmuffs
3. Alpine Muffy Baby Ear Protection for Newborn and Babies up to 36 Months – Great Safety
Sale
Alpine Muffy Baby Ear Protection for Babies and Toddlers up to 36 Months - CE & ANSI Certified -...
PROTECT YOUR BABY FROM NOISE | Loud sounds can be quite harmful for babies, and every 8th child suffers from permanent hearing loss!...
NO PRESSURE ON FONTANEL | The head of a baby younger than 18 months is extremely vulnerable because of the not yet closed fontanelle....
ADJUSTABLE AND SAFE | Alpine Muffy baby and toddler ear protection has a safe and practical design, without any hard parts that can be...
This is the next best baby headphones for flying since it has special hearing protection for babies. It can successfully block out up to 23 decibels of sound. Furthermore, it features a trendy design composed of striped elastic material. It also has velcro all the way around it to make it simpler to adjust. So, you may expect a tight fit.
CE Certification
The Alpine Muffy Baby is the only
CE
-certified hearing protection for babies and toddlers on the market. The earmuff complies with all European Union and US legal criteria in terms of safety, health, and the environment, making it relatively safer when it comes to manufacturing than competitors.
Easily Adjustable
The Alpine Muffy Baby is meant to keep the headband from becoming overly tight. The earmuffs stay in place thanks to the design, which eliminates the need for multiple adjustments. The baby can wear it without experiencing too much pressure or pain because of the soft and lightweight materials.
Modern and Portable Design
A pink and white striped headband with an additional grey headband distinguishes the Alpine Muffy Baby Pink among the market. Its earmuffs have a soft foam lining on the inside. Plus, a white Protect&Go bag is also included in each delivery. Useful for storing the earmuff in a sanitary fashion.
Overall
Alpine Muffy Baby Ear Protection provides one-of-a-kind hearing protection. These are the only baby headphones for planes that come with an additional strap, in addition to the unique design. You may continue to use it as your child grows older. So, you can expect these headphones to last a long time.
Video: Alpine Muffy Baby Hearing Protection lower decibel pads
4. Mumba Baby Earmuffs, Ages 3-24+ Months – Best on Comfortability
Mumba Baby Ear Protection Noise Cancelling Headphones for Babies and Toddlers Baby Earmuffs - Ages...
PROTECT ANYWHERE – There's nothing better than being able to share experiences with your baby, but their delicate ears mean that...
SUITABLE FOR BABY – Trying to make adult-size headphones work for your baby's head can be both frustrating and disappointing....
SAFE & EFFECTIVE - The baby ear protection headphone offers a SNR 26 Db / NRR 31dB protection as designed with professional noise...
The comfort of Mumba Baby Noise Canceling Headphones is unrivaled, and they'll help your baby sleep soundly during trips. They're intended to fit both your newborn and toddler snuggly and securely, offering peace and quiet to otherwise noisy events so you and your little one can have safe fun in any setting.
Quality Made Earmuffs
Mumba Baby Noise Canceling Headphones are adjustable and made to last, with high-quality ABS material used to reduce weight, making the earmuffs extremely portable and robust. With a skin-friendly and comfortable cushioned headband on top, there will be no pressure on the baby's ears thanks to the big interior space.
Safe and Effective
This baby ear protection headphone is created with a professional noise-dampening sponge, thickening solid cups, and thickening solid cups to keep your children safe from hearing loss, offering SNR 26 Db / NRR 21 Db, for maximum effectivity (SNR vs NRR:
Ear Defender
Rating Explained on
eardefender.co.uk
). It protects your baby's eardrums from loud noises and helps them fall asleep and remain asleep even in the noisiest environments.
Overall
You may easily determine how comfortable your kid is wearing these baby protection earmuffs. Your babies may not be able to communicate, but with these headphones on, you won't watch them fuss or become irritated. They probably won't even notice!
Video: Best Baby Noise Cancelling Headphones on Amazon | Mumba
5. BBTKCARE Baby Earmuffs for 3 Months to 2 Years – Best for Travel
Sale
BBTKCARE Baby Headphones Noise Cancelling Headphones for Babies for 3 Months to 2 Years (Pink)
PROTECT YOUR BABY'S SENSITIVE EARS FROM IRRITATING LOUD NOISES with the BBTKCARE comfortable and safe baby noise cancelling...
YOUR NEWBORN WILL LOVE THE SOFT PADDED DESIGN, since the zero- pressure noise reduction earmuffs will perfectly cover your baby's...
PERFECT FOR NAP-TIME ON THE GO! The BBTKCARE baby noise cancellation headphones are ideal for concerts, football games, cinemas, theme...
BBTKCARE Baby Ear Protection Noise Canceling is made of high-quality plastic and is lightweight but durable, making it ideal for travel! While your baby is wearing them, the exquisite material assures their comfort and safety.
Defender Technology Included
Its Defenders technology safeguards your child's hearing while lowering background noise, letting him or her sleep soundly. So you may go about your business without disturbing your sleeping angel, such as mowing the grass or going for walks, not only that, it's ideal for traveling without waking up your little one!
Ergonomic Design
Its padded arching broad headband is ergonomically designed to keep close to your baby's head, providing all-around comfort without exerting pressure. Moreover, the plastic utilized is of high grade. It is both safe and effective in reducing background noise.
Overall
Because of their lightness and portability, these earmuffs are ideal for travel. Features like these might make all the difference in departures on today's airlines, where capacity is at a premium and carry-on items are limited, plus the portability is a wonder, allowing you to take it anywhere you want!
Video: BBTKCARE Baby Headphones
6. Snug Kids Earmuffs/Hearing Protectors, 1-12 years – Best for Kids with Autism
Snug Kids Ear Protection - Noise Cancelling Sound Proof Earmuffs/Headphones for Toddlers, Children &...
Ideal for blocking noise caused Ideal for blocking noise caused by large crowds, airports, sporting events, garden and household tools,...
Perfect for kids on the autism spectrum for blocking out crowds and other triggers
Low profile clam design keeps the muffs safe and secure on little ears and offers a stylish look. Strong high quality parts make them...
Snug Kids is popular with both parents and kids, as seen by the over 4,500 positive reviews. Customers believe this set is beneficial to children with sensitive ears as well as those on the autism spectrum. Children as young as six months can wear the muffs. They adapt smoothly upward till adolescence, according to verified reviews.
Cute Patterns and Comfortable to Wear
Flamingos and airplanes are among the fashionable designs available with these earmuffs, so you can cover all your child's creativity! It's essential to have something comfortable in addition to cute patterns; after all, your infant will be wearing them for hours every day. So, these earmuffs keep that in mind and include a soft ear cup and a cushioned headband.
Safe and Effective
These are not only comfortable but also safe and fulfill ANSI requirements. They should lessen the external buzz while still letting your child hear and participate in what's going on around them. With an NRR of 27 dB, you will get the maximum efficiency while keeping your children safe.
Overall
Children with autism often have remarkable hearing abilities. That gift, on the other hand, might bring a great deal of sensitivity. The everyday exposure to normal life can be overwhelming for many children with autism. If your child has to wear earmuffs to prevent sensory overload, you'll want them to enjoy wearing them, too- this will be what this product brings!
Video: Snug Noise Reducing Ear Muffs
Conclusion
Our first goal is hearing health, which is especially more important for children, who have fragile auditory systems that can be quickly injured by loud noise.
Protecting your kid is a responsibility that all parents take seriously, and the same caution should be exercised while dealing with the dangers of loud environments. So pick the earmuffs and baby protection we mentioned above to help you protect your little ones, good luck!